Welcome from the Head Team
When deciding on where to go for sixth form, I knew St. Michael's would be my first choice. I had seen and heard the excellence that comes out of our school, from outstanding exam results to high-end university offers. However, it was when I actually started year 12 that I was able to fully experience everything that makes St. Michael's so great. 

St. Michael's, though small, is home to a rich and diverse community of people who are enthusiastic about learning, helping the community and nurturing their passions. Upon starting sixth form, it won't be long until you find a group of kind, like-minded people- the students within the sixth form are not only hard-working, but extremely friendly.

Furthermore, the community life at St. Michael's stems far beyond just the students. The teachers here are equally as passionate and welcoming. In my sixth form experience so far, I've found that the smaller class sizes have allowed for a much more intimate and in-depth lesson structure across all departments. From class discussions in English, to practical work in Chemistry, the teachers will support you through each step of your A-level journey. You'll never be afraid to admit when you don't understand something in class because this school nurtures a completely open, non-judgemental work environment. 

In addition to academic support, St. Michael's caters to students' interests through the range of extracurricular activities available. From subject-specific societies like Medical society and Maths society, to activities that go beyond the curriculum like Debate club, the school magazine 'Purple Ink', and sports clubs, you are bound to find something that interests you here. 

Since becoming Head Girl, I've come to appreciate the importance St Michael's puts in its community. Students and staff members alike are willing to help each other, as well as those in need beyond our school gates, through fundraising events for charities both local and worldwide. 

I can say without a doubt that my time in St. Michael's Sixth Form has been both enriching and incredibly rewarding, and I can assure you will feel the same way should you continue your academic journey here.
Julianne Llamas, Head Girl
Student Head Team
Julianne Llamas (12Z), Head Girl
Elizabeth Bourn (12Y), Deputy Head Girl
Arabella Sanchez (12A), Deputy Head Girl
Kian Nazemi Zadeh (12N), Deputy Head Boy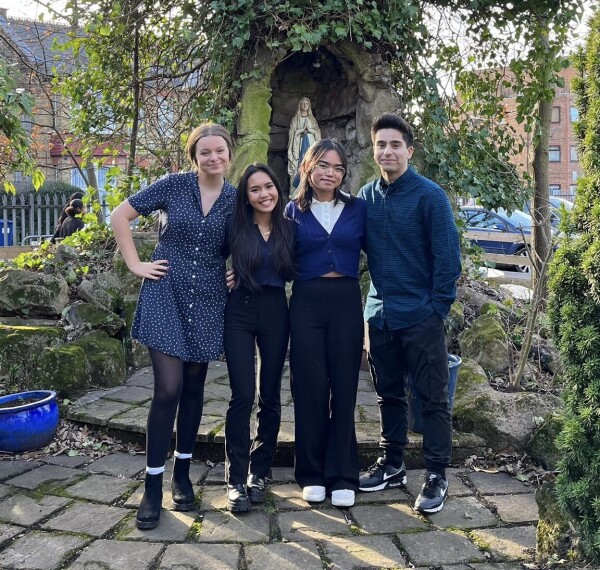 Love one another, as I have loved you