Welcome from the Head of Sixth Form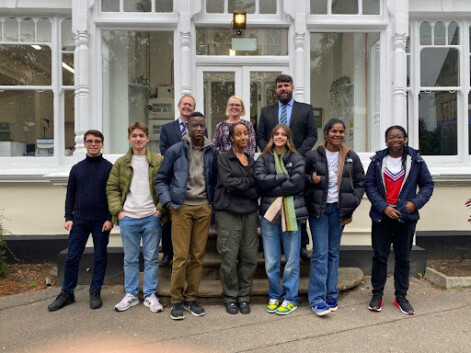 "Welcome to our 'Outstanding' Sixth Form (Ofsted, Nov 2022)
Thank you for visiting the sixth form section of our website.  May I extend a warm welcome to you.  At St Michael's Sixth Form, we are truly committed to educating young people to fulfil their God-given potential and ambition in life. Driven by Christ's instruction to "Love one another as I have you", we seek to develop a community in which academic excellence is pursued alongside service to others and love for our neighbour. We are immensely proud of our students: of their hard work, of their grades and achievements, of the fantastic university places they secure, and, importantly, of how they give back to our community. I hope that you will find these pages informative and I look forward to meeting you in person at our Sixth Form Open Evening.
There is no doubt about it, if you are one of St Michael's sixth formers you will have a different experience of sixth form life from that of a sixth form college or a college of further education, or even another school.  Those who stay on into the sixth form know the staff and the staff know them well and can give advice and help with greater effectiveness.  Those who join the Sixth Form from another school will find that special care is taken by everyone to make them welcome and get to know them.  The size of the school and the size of the sixth form make this possible.
In addition, the sixth form has opportunities not only to grow in leadership skills among their peer group but also with the younger pupils.  They run clubs and activities for them, help Year 7 to settle in, assist with sports coaching, musical activities and charitable fund-raising - all of which enable us to write very full and complimentary UCAS references about a wider range of their abilities and successes.
Other leadership opportunities arise from being Sixth Form Council Reps, "Guardian Angels", committee members, school magazine reporters and editors, librarians and catering organisers.  The sixth form curriculum also provides an opportunity for community service and work experience at home and abroad.
Overall, in the Sixth Form you are treated as a young adult and we would expect you to have a reliable and responsible attitude to attendance, punctuality, study and general behaviour.  If you come to St Michael's Sixth Form you are not coming just for Advanced Level study, but for an educational experience that goes beyond this.  We try to provide opportunities for development of the whole person in a wide variety of ways.  We also take seriously the responsibility of training our students in the acquisition of good study habits which will be of the utmost importance in higher education."
Mr N. Hinnem, Assistant Headteacher: Head of Sixth Form
Love one another, as I have loved you