Onyinyechi wins a National Youth Theatre place
19th May 2023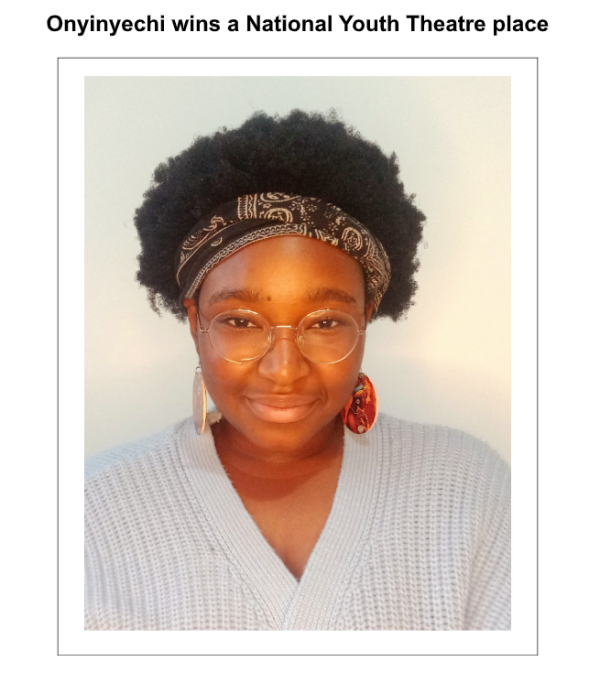 A St. Michaels Catholic Grammar School Y10 student – Onyinyechi Mmesoma Onwuachu - beat thousands
of aspiring young actors across the UK to win a place on the prestigious National Youth Theatre (NYT*).
The 15-year-old, who is set to follow in the footsteps of Dame Helen Mirren, Idris Elba, Daniel Craig,
Chiwetel Ejiofor, David Oyelowo, and Colin Firth, will be attending the world-renowned theatre's highly
sought-after intensive summer course following a two-stage virtual audition. This also entitles her to
become a member of the NYT company until the age of 25, which means that she will be offered casting
auditions, work experience and opportunities to perform in productions all over the country.
An overjoyed Onyinyechi exclaimed: "Hearing the news, I was quite proud of myself, considering that I am
one of the youngest in my group. It feels so surreal and I want to thank everyone in my community and
support network – including my family, mentors and teachers - who helped me along the way. This summer,
I can't wait to attend my course in Manchester."
Her passion for drama and music theatre has been fuelled by her school's supportive drama and music
departments. She is a member of the Chamber Choir. She recently played King Aegeus in the Labyrinth of
Life, a school production that was based on Theseus and the Minotaur.
She also studies drama with RM Drama in London, and this summer she will take her Grade 7 Acting exam
after achieving a distinction in her London Academy of Music and Dramatic Arts Grade 6 exam in Public
Speaking. Since 2021, she has been a member of the Girls Choir of the National Youth Choir of Great
Britain with their songs made available on Spotify. She hopes that by sharing her experience, other people -
especially young girls – will be inspired to apply and audition for the NYT.
Can you explain what the audition process for the NYT involved?
The audition process was a two-stage virtual process. The first-round audition involved the submission of a
self-tape. This included a two-minute monologue and some self-introduction. I found it daunting. For the
second-round, two NYT representatives were present on the other end of the live recall that was conducted
over Zoom. In this audition, I performed the same monologue again and was redirected to gauge my ability
to adjust and take direction. They also wanted to get to know more about me. Results day fell on the 11 th of
May, twelve weeks following my recall. I learned that I was accepted on the 12 th after checking my email.
What advice would you give to students who want to follow a similar path:
1. You should have the conviction, commitment and confidence to audition.
2. Register with the NYT Hub and sign up for the audition.
3. Pick a strong monologue – Ask mentors and members of your community for advice. I cannot
emphasise enough how important it is to ask for help.
4. Practise, practise, practise. Then recite your monologue aloud to your community or mentors for
feedback.
5. After incorporating the feedback, record and upload your self-tape. Take a deep breath and enjoy
the process.
Head of Drama Mrs Kat Heron said: "I am very proud that Onyinyechi has achieved a place on this highly
sought after course. I hope she enjoys the opportunity and her experience inspires other St Michael's
students to apply for opportunities with the National Youth Theatre.…"
Deputy Head Mrs Jo Sheehy added: "This is wonderful news- Well done"
*The NYT is a world leading youth arts organisation. Since its launch in 1956, it has nurtured the talents of
hundreds of thousands of young people aged 14-25. For more information, visit www.nyt.org.uk
Love one another, as I have loved you