Queen's Platinum Jubilee Party
12th June 2022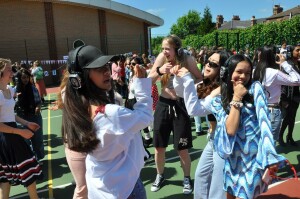 St. Michael's held a wonderful jubilee party on Friday 27th May.
The sun shone and the whole community celebrated. Staff and students came in the dress of one of the decades that the Queen has reigned. There were games, a cake competition and an amazing silent disco for the whole school!
Every individual was given a commemorative coin of the Queen's Platinum Jubilee with St. Michael's on the back.
For more photos of the celebration click here
For photos of the amazing cakes entered in the competition click here
Love one another, as I have loved you