Inspirational Talk by Tom Toumazis
30th June 2022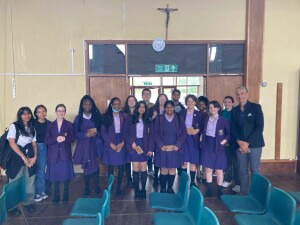 Tom Toumazis MBE came to to school to talk to Year 10 and Year 12. The title of his talk was 'What they do not teach you in school'
Tom Toumazis MBE has a portfolio of directorships focused in
technology, media and the arts. He's a founder investor and Chair of
four start-ups from a variety of industries from data analytics, to online
art retail, from mobile games to the biggest Expo in the UK for the
Hemp, CBD and Medicinal Cannabis. He's also Non-Executive Director of
the Performing Rights Society for Music and Directors UK.
Tom has held senior roles in the film and entertainment world at ITV,
The Walt Disney Company, Eurosport, Endemol Shine and Yahoo! He's
run small and large businesses, from start-ups to businesses employing
over 7,500 people.
Tom is a public speaker, sharing his work/life experiences and
encouraging young people to explore a career in media and
entertainment. He supports Speakers for Schools & London South Bank
University, where he is a Visiting Professor of Business and an Honorary
Fellow.
Tom is also a Trustee of the NSPCC and has helped raise over £22 million
over the last 19 years. He has run 8 London Marathons for Childline and
plans to run number nine in 2022 along with his two sons.
He's an Arsenal fan, a movie addict and more recently become addicted
to swimming in Hampstead Ponds and playing Chess online…not at the
same time!
He was awarded an MBE in 2015 for services to children.
Love one another, as I have loved you