Debate Success!
27th January 2022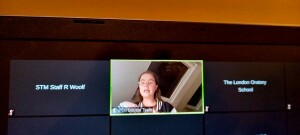 Y13 Debate Team Qualify for the Regional Finals - a stunning achievement!
The London Finals of the MACE English Speaking Union Debate Competition took place via zoom on Friday 19th February, and after a thrilling set of debates the winners were announced: St Michaels and Habs Boys. The other schools in the final were KAA Academy, St Paul's Girls School, The London Oratory School and UCS .
We were given the motion in advance, and told that we will proposing it; This House Would Ban MP's from Holding Second Jobs. The other two motions concerned gambling and lowering the voting age to 16.
Our team consists of Grace Gartlan, Miranda Leff and Jess Bohan. These students are true veterans of the St Michaels Debate Team, having started in Year 7 under the guidance of Miss Majid and then really honing their skills throughout KS4 with Miss Ferry.
The debating skills of all participants was truly inspiring. All teams had clearly researched their set topics comprehensively, and delivered focussed, impactful arguments demonstrating outstanding articulacy. I was particularly impressed by the confidence demonstrated from all speakers.
What really separated our girls from the rest however (not that I'm biased!) is that they were entirely natural in their delivery. As the competition judge explained in the feedback session at the end, people won't remember facts and figures, but they will remember impactful delivery. Whilst with some students this appeared a little forced at times, the St Michael's team exuded confidence in a way which seemed effortless; a natural illustration of their knowledge and understanding of the topic.
They appeared equally authoritative in the development of their own arguments, as in the confident and comprehensive rebuttal of the opposition. Watching them handle "points of information" - interruptions from the opposition, which the speaker can decide to either ignore ("no, thank you!) or to accept ( "yes, go on"; "accepted"), it felt as if it would be very difficult to find fault with their logic or impressive array of evidence. They made it look easy; no easy task.
The feedback was extremely useful as it allowed an insight into the criteria used to make a judgment call. Namely: Reasoning; evidence; organisation; prioritisation; listening and responding; expression and delivery. A point that was emphasised in the feedback to St. Michaels was the impressive sense of unity within the team. They were masters of their own and each others' material, weaving in aspects of their partners' speeches in order to frame a rebuttal, or reinforce a point, for example.
A fantastic result, well deserved. We will report back after the Regional Finals!
Other debate news:
We have been able to run a face to face debate club since the start of the Autumn Term, with a range of students across all key stages attending. Our Senior Debaters in Year 11 guide and support the younger ones with fresh topics and debating games fostering academic curiosity and a great sense of community.
We have qualified for the Frankly Speaking Debate Competition co-hosted by the Benjamin Franklin Institute and the American Embassy; this will be a team of Y11 students.
We have also qualified for the Catholic Schools Public Speaking Competition, and we will be sending a Year 12 student to represent the school.
Mrs Woolf, Jan 2022
2nd i/c English, Teacher in Charge of Debating
Love one another, as I have loved you