Barnet Champs July 2022
15th July 2022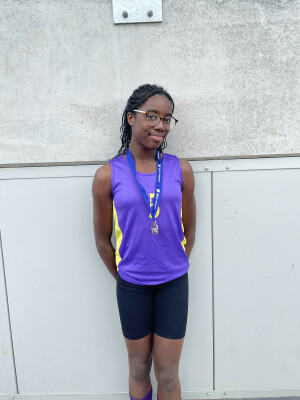 Barnet Champs Athletics event
Tuesday 5th July 2022
The annual Barnet Champs sports day was on Tuesday 5th July in a spacious athletics ground called Copthall.
The size of the ground-accommodated schools all around Barnet. It was lovely to see so many schools taking part.
St-Michael's would like to congratulate our students for taking part.
We are incredibly proud of our girl's achievements and accomplishments. Well done!
The first filed events started and it drew a large number of participants' boys and girls from year 7 – year 10's.
Moyinoluwa Yr10 - competed in the triple jump finishing 5th with a distance of 7.22
Tami Yr9 - Triple jump finished 1st place with a desistance of 9.20
Nicole Yr9 - Javelin finished joint 6th with a distance of 8.40
Kammy Yr9 – Long Jump finished 9th with a distance of 3.12
Orla Yr7 – Long Jump Joint finished 15th with a distance of 2.92
Abigail Yr10 – Discus finished 2nd with a distance of 15.00
Constanze Yr9 – Discus finished 3rd with a distance of 15.19
Isabella Yr9 – Shot putt finished 1st with a distance of 7.95
Diane Yr7 – Shot putt finished 2nd with a distance of 7.00
Samara Yr10 – High jump finished joint 5th 
Lenka Yr7 Javelin Finished 2nd
Track events took place and the cheers around the stadium was amazing.
Moyinoluwa Yr10 – 80M hurdles finished 3rd the time of 16.97
Charlotte Yr7 – 75M hurdles finished 1st the time of 12.29
Tami Yr9 100m Placed 1st
Lenka Yr7 – 100M finished 7th the time of 15.94
Jasmin Yr10 100M finished 7th the time of 15.10
Elizabeth Yr10 - 300M finished 5th the time of 53.71
Ailbhe Yr9 - 800M finished 8th the time of 3.25.28
Federica Yr10 - 1500M finished 1st the time of 6.02
Yr7 Relay team placed 5th
Yr9 Relay team placed 1st
Yr10 Relay team placed 3rd
Love one another, as I have loved you